Urine Analysis & Spermogram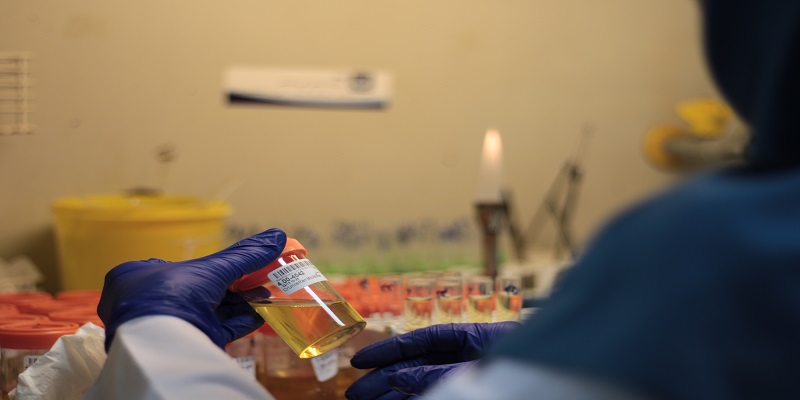 Spermogram
Among the tests performed at Payvand laboratory, urine analyzing and the Semen Analyses test both are performed Automatically by using the CASA software system in accordance with WHO standards.
Sperm analysis tests are accepted daily at Payvand laboratory. However, Clients must be present at the laboratory from 8 am to 1 pm. prior to sampling and accepting the conditions for this test, the expert in charge of this section will explain to clients. The reason for assigning the Semen test receiving by the laboratory is to minimize the errors involved in the results of the test and to examine each specimen immediately after receiving a standard and suitable condition.
Urine analysis
In the urine, degradation section of the laboratory, all the biochemical parameters including glucose, protein, bilirubin, urobilinogen, and … are analyzed. In addition, urine can also be tested in some cases, which are not normally present in the urine and may be due to some systemic diseases and congenital immune deficiencies in the urine.
Internal and external quality control is performed on all parameters and elements decomposed in the urinalysis section and daily, weekly, and monthly quality control. Another feature of this part of the lab is the use of an experienced and experienced workforce. This section of the lab also reports urine microscopic elements, and if there are abnormal cellular elements in the urine of patients, urine cytology is recommended to physicians.
Complete urinalysis is the Gold Standard analysis to examine the kidneys and urinary tract, which provides, in most cases, an overview of the body's metabolism.
Since failure to fulfill standards for a complete urine test can lead to a misdiagnosis of a disease or syndrome, The Payvand Clinical & Specialty Laboratory installed and utilized an automatic analyzer to increase accuracy, speed, and accuracy of results. Automatic urinalysis was performed macroscopically and microscopically.
Due to the instability of the urine sample, it is not possible to re-examine the elements manually, but this device has overcome this limitation by documenting images using image-processing technology.
The mechanism of the UriSed 3 & LabUMat fully automatic device is that the urine sample is centrifuged by micro centrifugation of the device and in a special cuvette by two light field and contrast phase microscopy systems and combined ones in a total of presenting three images less than a minute, to analyze all urine elements with great resolution.
The Payvand Clinical & Specialty Laboratory is one of the few private laboratories that utilizes a fully automated urinalysis machine along with experienced and expert while eliminating operator-affected processes, enhancing accuracy, speed, and uniformity in delivering results.