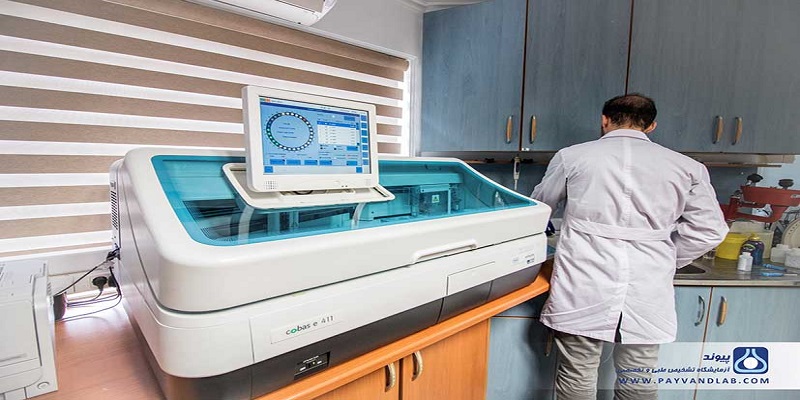 Immunology is one of the branches of biology that examines the types of organisms' immune responses to foreign antigens and the process of immunization against pathogens. It deals with both the physiological aspects of the body's defensive response to alien factors, as well as the pathological aspects of the immune system such as autoimmune diseases, allergies, immunodeficiency, vaccination, and organ transplants.
The immune system is a complex and ultimately precise system involving diverse organs, with different functionality and relevance. In the event of the slightest interference and dissonance in the performance of its organs, it is possible to produce disorders and the appearance of serious and sometimes irreversible complications. Immunoassay methods can identify and measuring a variety of hormones levels, tumor markers, antibodies against infectious agents, and autoimmune disease antibodies, which are discussed below.
Immunology section of Payvand Clinical & Specialty Laboratory utilizing cutting edge diagnostic technology with high sensitivity and precision equipping of the most prestigious companies in the world which are fully controlled and supervised such as Roche, Biomerieux, Euroimmun like fluorescent acetate and immunoblot. On-demand tests are carried out daily and are prepared for the response.
Serology is the scientific study of serum and other body fluids. In practice, serology usually refers to the detection of antibodies present in the serum that are typically formed in response to infection. Serological tests can be used to identify acute or chronic infections and can be used to help diagnose specific autoimmune diseases that do not show antibodies, such as hypogammaglobulinemia.
The Immunoassay section of Payvand Clinical & specialty Laboratory specializes in the following areas:
Hormones
Hormone is a chemical that is made in the endocrine glands and enters the bloodstream. It acts on the target cells of the recipient and changes the cell's actions by sitting on it. The amount of hormones is regulated by the intricate connections of the endocrine organs together with the nervous system. The endocrine system contains various glands in the body. These glands secrete their secretions into the bloodstream. In fact, hormones secreted by the endocrine gut play a role in the body's chemical messenger, and many of the body's abilities are mediated by this.
In the hormone section of Payvand Clinical & Specialty Laboratory, the amount of hormones in the serum sample is measured by using fully automated equipment based on modern technologies from well-known Diagnostic Companies such as Roche and Abbot.
Tumor Markers
Infectious Diseases
Autoimmune and Inflammatory Diseases
Important Indicators of Immunoassay & Serology sections are:
Implementation of quality management system in accordance with national and ISO standards (10002 + ISO 9001)
Continuous monitoring of the quality of testing with regard to internal and external quality control (in some cases)
Speed of testing so that in emergency cases the test result time is less than 24-48 hours.
Employees with at least a master's degree in related disciplines with the necessary knowledge and experience
Applying world-class equipment and technology